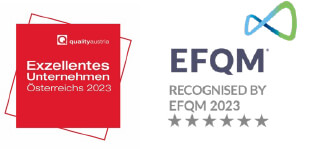 The EFQM model, a quality management system of the European Foundation for Quality Management, helps organisations to sustainably perform better and to optimally manage organisational change – with a focus on sustainability, circular economy and innovation.
ikp Vienna achieved six of the possible seven stars in the assessment by independent assessors in February 2023 and is thus – as in 2015 – one of the "Excellent Companies in Austria". We also met the criteria for the "Recognised for Excellence 6*" and "Recognised by EFQM 6*" awards.
The clearly defined and meaningful purpose, an "enviable" corporate culture, active stakeholder involvement, the processes for sustainability, innovation and transformation, and the review of objectives through key figures were described as particularly positive. One of the particular strengths, according to the report, is the ikp corporate culture: "There is a strong culture of mutual respect, where each employee is given the necessary room for manoeuvre to freely participate in improvements according to their experience, competences and interests".